Good News/The List of the First Batch of Advanced Manufacturing Multiplication Plans Announced, and He Electronics is on the List!
---
Recently, the municipal government issued the "Implementation Plan of Xiamen Advanced Manufacturing Industry Multiplication Plan (2022-2026)" (hereinafter referred to as the "Implementation Plan"), proposing to strive to achieve an annual growth rate of about 15% by the end of 2026. The intensification level of manufacturing has been effectively improved, forming a good development trend of doubling the scale of advanced manufacturing, increasing supply, and making comprehensive breakthroughs.
As a high-tech enterprise focusing on high-speed data transmission and communication, automotive electronics, medical electronics, industrial control products and new energy technology, Zhonghe Electronics has successfully entered the first batch of Xiamen's advanced manufacturing industry doubling plan. After the study of the municipal government's special meeting, the list of enterprises in Xiamen's advanced manufacturing doubling plan (the first batch) was publicized on April 11.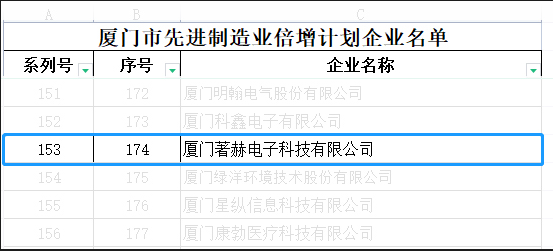 Xiamen advanced manufacturing industry multiplication plan, mainly around the industrial scale, head enterprise building, key industry enterprise cultivation and other advanced manufacturing industry development goals. According to the plan, Xiamen's industrial added value exceeded 400 billion yuan, the total industrial output value reached 1.5 trillion yuan, the added value of strategic emerging industries and the added value of high-tech manufacturing accounted for 55% and 50% of the industrial added value respectively, and the actual amount of investment promotion projects increased by 300 billion yuan in five years. During this period, the city will focus on expanding a number of listed enterprises, leading enterprises and backbone enterprises in key industries. Among them, by 2026, the city will cultivate 100 listed enterprises, 150 leading enterprises and 300 backbone enterprises, and build a 100 billion-level manufacturing "pilot" head enterprise.
The materials are quoted in the network http://gxj.xm.gov.cn of Xiamen Bureau of Industry and Information Technology.
With many honors and blessing, he will not forget his original intention and continue to provide professional services and excellent products for the industry. Become a leader in the electronics industry!